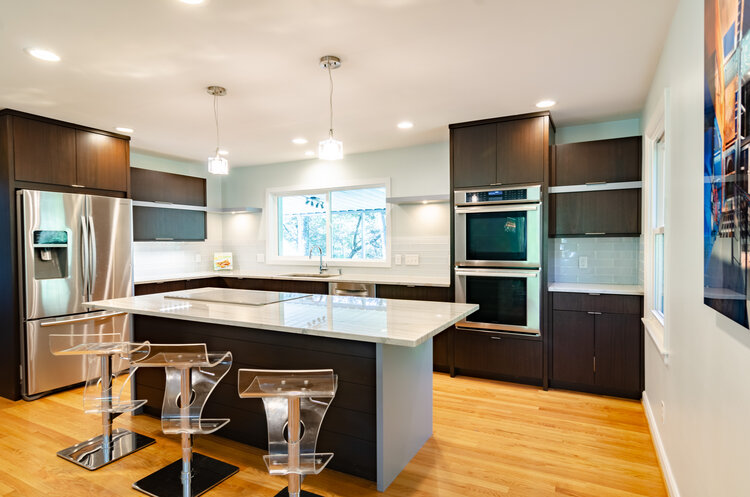 Get the Home of your dreams – without the headache
Home Remodeling Made Easy
Your Custom Home Dreams Come True
Whether you are a new homeowner who bought a fixer-upper, or have been in your home for 20 years and are ready for a change, the renovation desire is all the same. To get started you can either take the DIY path or hire a professional, but how do you know what's best for you? We may be biased, but we strongly recommend the latter – see how hiring a pro can solve your DIY woes:
Save Money
It may seem more expensive up front, but the reality is when you hire a professional you can trust, they are able to make sure you are spending your money wisely, making sure you get quality materials and avoid rework by doing things right the first time.
Save Time
When factoring your budget, do you also quantify your time and effort? While it may seem more expensive up front to hire a professional, also consider your lost time, and what you could be doing instead of laboring for hours a day.
Save your Sanity
Most important of all critical saving graces of hiring a professional is your own sanity! Many of us have been guilty of the "how hard can it be" mentality, only to find the answer of "really hard". Save yourself the headache, go with what you know will work.
Not ready yet? Learn a little more about us first
QUALITY CONSTRUCTION PROUDLY OFFERS RENOVATION SERVICES ACROSS THE GREATER WASATCH FRONT, AND FOR SOME PROJECTS WE MAY BE ABLE TO SUPPORT YOU IF YOU ARE OUTSIDE OF THAT AREA. CONTACT US FOR A FREE CONSULTATION AND WE CAN SEE IF WE'RE A GOOD FIT.
Check out the latest tips from our blog